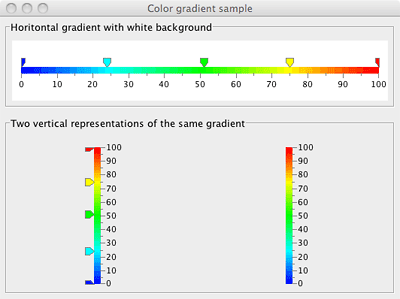 ArtTk furnishes a collection of advanced graphic components (widgets) and features like:
a set of support modules (helpers) permitting dynamic definition of menus and tool bars from simple XML configured files, and supporting tooltips, icons, action commands...;
a highly adaptable generic desktop, facilitating the creation of dedicated GUI Java based applications;
an advanced graphics layout manager based on a grid;
a dynamic monitor for memory footprint;
a file editor of key-value properties;
a generic editor of color charts;
...
ArtTk was conceived to be as small as possible to furnish simple effective solutions for scientific and technical applications. ArtTk is used in many open source and commercial projects, like:
- SPIS
- Keridwen
- Cassandra

ArtTk is freely accessible under QPL and GPL licenses. For integration into proprietary developments, a developers license (Close Source Developer License or CSDL) is also available on request.
Our team are at your disposition to furnish you with advanced support, service and development based on ArtTk. Feel free to contact our commercial services for further information.
>> Link to the ArtTk project page.