Based on the VTK library and written in Java, Cassandra is open source software of 3D visualization and scientific data, employed in particular for the post-processing of calculated results. Cassandra is architected in the form of a framework in which data processing (filters) is accomplished via independent plug-ins and can be dynamically loaded.
Cassandra offers a graphic editor of visualization pipelines, facilitating the definition of processing sequences and a JyConsole, allowing the direct manipulation of VTK objects by Jython scripts. Non-specialists can thus implement all the possibilities offered by VTK easily and quickly.
Adaptable and modular Cassandra can therefore be easily personalized according to the needs of each domain of application and offer great functional evolution capabilities.
---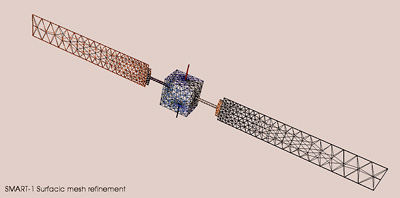 As an open source project software, Cassandra has a track record of a strong community of users and has been an integral part of several national research projects (ANR), like project Collaviz, a distributed and collaborative platform for scientific visualization.
In this frame, a client-server version and parallel processing engine, Cassandra-PCS, was developed. Based on the technology ProActive from INRIA, Cassandra-PCS offers processing capacity for large databases and a simplified deployment in high performance clusters.

In the frame of the SPIS project and as post-processing module, Cassandra is integrated in the IME Keridwen. Cassandra is used to visualize data of space environment simulations.
Along with Cassandra, Artenum offers:
- a dual licensing mechanism, allowing the integration of Artenum's solutions in all types of programs, including proprietary ones.
- an offer of support and services ranging from training to consulting, by way of custom development.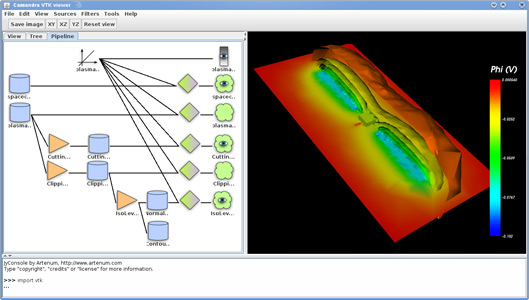 Features:
3D viewer based on VTK files;
Graphic representation of the interconnection between different data processing filters (pipeline);
Python script interface with object-oriented completion in command line (JyConsole);
Use of plug-ins to simplify the extension of processing;
Iso-level: allows the extraction of one or more 3D geometric volumes of equal values;
Threshold: allows the extraction of one or more volumes for which the data values are defined by one or two thresholds;
Cutting-plane: allows the slicing of a volume following to a plan;
Clipping-plane: allows the slicing a volume following a plan and to retain the volume found above or below the cut;
Warp scalar: allows a deformation following a vector and the data associated with the data set;
Dynamic Dataset: allows following the evolution of a dataset over time.
Outline axis: allows the display of a box marking the boundaries of different datasets;
2D info: allows the display of information about points like ID, value...
Service and support:
Around Cassandra, Artenum proposes a collection of services and support:
Integration of external tools of simulation kernels or processing modules
On-demand development of supplementary and dedicated processing modules
On-demand development of pipelines for visualization and analysis of databases with VTK
On-demand development of formats for data import/export (STEP, IGES, MED, NetCDF)
Training
For more information, contact us.